Sample Featured Listing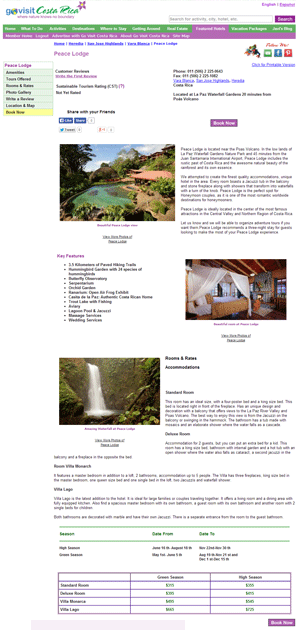 GoVisitCostaRica.com's Featured Listing sends reservations directly to you. A Featured Listing includes a series of web pages on GoVisitCostaRica.com that advertises your company. And the best part is, you don't pay any commissions.



GoVisitCostaRica.com Guarantee:

Purchase a Featured Listing and for any reason you want to cancel we will refund you the unused portion of your ad money.

Our Featured Listing services start at $137 for 3 months*, we also do not charge commissions on reservations generated through our website.



GoVisitCostaRica.com Featured Listings Advantages:
Describe your Company in detail to over 1.6 million visitors annually
Present your best pictures in the Photo Gallery
Show off your company with a Video
Display your Amenities with customized icons
Present the Tours you Offer
Display your Seasonal Rates
Show any specials you are currently offering
Book reservations directly with your guests
Pay No Commissions on reservations you get with GoVisitCostaRica.com
Target guests using 5 of our 23 categories (i.e. Hotels, Surfing, Vacation Rentals, Adventure Travel, All Inclusive Resorts, Car Rentals, etc.)
Full control to securely access your Featured Listing for updating or modifying your content, photos, and rates

Each reservation request you receive includes the contact name, the contact email, requested reservation dates, and the number of guests. And it is directly forwarded to you through our "Book Now" email reservation system. You simply confirm availability with your guests and you keep 100% of the commissions!

Featured Listings get priority on GoVisitCostaRica.com. Your company will come up first on the many pages of GoVisitCostaRica.com. Featured Listings are viewed a total of 1 million times per month, greatly increasing your marketing exposure.



GoVisitCostaRica.com facts:



Worldwide Traffic
1,630,000+ Visitors per year
5.5 million + Page Views per year
10,000+ pages indexed in Google Search Engine
40+ Custom Costa Rica maps
2000+ high quality photos
GoVisitCostaRica.com's Average Days Booked in advance is 60 days
68 million travelers book online, according to Forrester Research

When advertising with GoVisitCostaRica.com, you are partnering with one of the most popular Costa Rica sites on the web.

Get started with a Featured Listing Now!



Or Call Us at (858) 581-9209 (USA Main Office) or at (506) 8939-7265 (Costa Rica Main Office).

English and Spanish spoken at both numbers.


* Our prices vary for the following types of listings:
Hotel and Activity Company Featured Listings start at $137 for 3 months
Vacation Rental Featured Listings start at $97 for 3 months
Restaurant Featured Listings start at $64 for 3 months
All other Featured Listings are $137 for 3 months